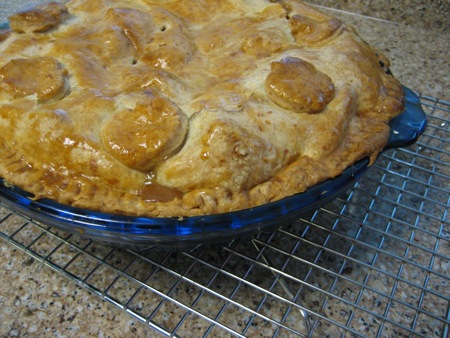 After spending the morning picking apples at the Nashoba Valley Winery I decided to make my annual attempt at baking a pie. This time I decided to branch out from my horribly lazy habit of using already made pie crust and really went outside my comfort zone with a super special Martha Stewart recipe that included a decadent Cheddar Cheese Crust. It took forever, and I desperately need someone to teach me how to properly crimp those adorable decorative edges, but the crust tasted fabulous and earned high praises from my friend Anna, a self-proclaimed none crust loving individual. The sweet and spicy flavor of the apple filling, combined with the savory pie crust was the epitome of a homemade slam dunk. There's a reason Martha Stewart is as famous as she is, and I'd love to shake the hand of the intern who wrote this recipe for her (ha ha). So while the pie wasn't picture perfect, it was certainly tasty and all eight slices were gobbled up in record time.

Grate Cheese & Slice Butter

Combine in Processor & Pulse

Peel Apples

Mix

Roll Out

Top

Decorate

Brush with Egg Wash

Cool & Enjoy The Crispy Cheesy Crust
Apple Pie with Cheddar Crust (Originally Published by Martha Stewart)
For the Cheddar Crust (Makes enough for one 10-inch double crust):
2 1/2 cups all-purpose flour, plus more for dusting
1 teaspoon sugar
1/2 teaspoon salt
14 tablespoons (1 3/4 sticks) cold unsalted butter, cut into small pieces
4 ounces white cheddar cheese, coarsely grated (about 1 1/2 cups)
1/2 cup ice water

Process flour, sugar, and salt in a food processor. Add butter; pulse until pea-size lumps appear. Pulse in cheese. With processor running, add ice water; process just until dough comes together.
Turn dough out; gather into a block. Wrap in plastic wrap. Refrigerate until cold, at least 30 minutes or up to 2 days. Dough can be frozen up to 3 weeks.
For the Apple Filling:
1 1/2 pounds (about 3) Granny Smith apples, peeled, cored, and cut into 1/4-inch-thick wedges
2 pounds (about 5) Cortland apples, peeled, cored, and cut into 1/4-inch thick wedges
1 cup sugar
1/2 cup all-purpose flour
2 teaspoons fresh lemon juice
3/4 teaspoon ground cinnamon
1/4 teaspoon freshly grated nutmeg
1/4 teaspoon salt
1/8 teaspoon ground cloves
2 tablespoons unsalted butter, cut into small pieces
1 large egg, beaten
Preheat oven to 450 degrees. Divide dough into two pieces. On a lightly floured work surface, roll out each to a 13-inch circle.
Fit one circle into a 10-inch pie plate; transfer plate to a baking sheet. Put other circle on another baking sheet. Refrigerate dough until cold, at least 30 minutes.
Stir together apples, sugar, flour, lemon juice, cinnamon, nutmeg, salt, and cloves. Spoon into bottom pie crust. Dot filling with butter. Cover with top crust. Fold edges over; crimp decoratively to seal. Cut a steam vent. Chill in freezer until firm, about 30 minutes.
Brush with egg. Bake pie 10 minutes. Reduce oven temperature to 350 degrees.bake until golden brown, about 45 minutes. Tent with foil; bake until juices are bubbling, about 45 minutes more. Let cool at least 1 1/2 hours before serving.